Nibbler

Nibbler is a little theme-able snake game. The default theme is a remake of the 1984 classic Amstrad CPC nibbler game by Mosaik Software (Christoph Von Rhein & Roman Majer).
The theme can change graphics, sound and levels. I will write soon a tutorial to show how to easily make a new theme.
Nibbler is a very quickly made game (less than 12 day for all) and was made as a kind of challenge for me.
This game enters in the 2005 Dream-ON contest.
Nibbler is freely distribuable but the original readmefile must still in the package
ScreenShots :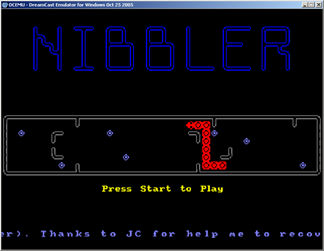 Title screen with DCemu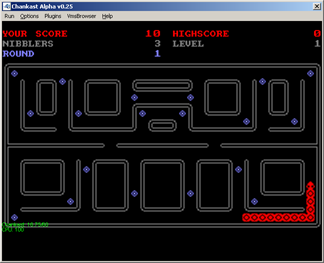 In game with Chankast

Exemple Theme with Chankast
History :
2005-11-09 : Release date (1.0)
How use it:
You can add new themes at the root of the CD or of the PC (with coder cable // dc-tool).
If more than 1 theme is found on the CD, you will be abble to select a theme at game launch
You must eat all the bubbles on the screen to go next stage but the nibbler.
To play, just press start and direction PAD.
Downloads :
Links :
You can find information about the original CPC game here:
Credits :



Original Amstrad Nibbler : Mosaik Software (Christoph Von Rhein & Roman Majer)
Dreamcast Remake : JMD

I would like to thanks :
- JC for help me to find the originals 9 levels of the CPC game
- All my DC friends for support me (Sizious, Ron, Eric, Fox, Patbier, Erwan, Olivier, Le Panda and all I forget !)
- All the guys that animate the DC scene (Wraggster, Metafox, Ron, Erwan)
- The Goat Store
- All the guys that made DC scene possible (Dan Potter and others)